A very big thank you to our team of sponsors who have supported us through discounts, technical guidance, and in some cases even free gear to help us sail around the world! We are so grateful to have your continued support!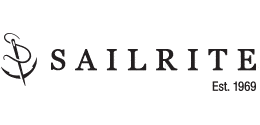 We absolutely LOVE Sailrite.
Where to begin? Their learning to sew video series made jumping into sewing with zero prior knowledge fun and easy! They also care very deeply about their online community, and consistently add new how-to videos and blog posts for any boat project you can think of.
All of their products are consistently high quality, and finding what you need online is so easy with their awesome website.
As for the machine itself, The LSZ-1 is like my macbook pro—intuitive, powerful, and glitch-free! I have been able to completely refit our canvas projects and start a little side repair business with this powerful machine!
Sailrite is stock full of sincerely helpful, patient, and passionate people. I actually have their contact number on speed dial. I love speaking with their project technicians (many of whom own sailboats), who always make time for even my most silly questions. I'm their biggest fan!
If you're looking for the most comfortable marine mattress, definitely give Sleep on Latex a try!
We have been through memory foam and dryfast foam options for our V-berth in the past, but both had pitfalls which ended up robbing us of many nights of good sleep!
Latex is naturally antimicrobial, very dense, and far more breathable than memory foam. Most importantly, it is SUPER comfortable! It's firm, but we still get that "sink in feeling" which a polyurethane foam just can't offer.
​
Sleep on Latex has an amazing support team who spent hours on the phone with me talking foam tech; they also sent us free samples which they usually don't do; and finally, they offer FREE shipping and FREE returns.
We purchased two Cal-King 3" toppers (one firm, and one soft) to DIY a 6" V-berth mattress, and two 3" firm mattresses for our Settee Cushion. We LOVE it!
We LOVE our Monitor Wind Vane!
​
Like most big purchases on Atticus, we had to put in a lot of hours at work to be able to save up enough to pull the trigger and finally buy our wind vane.
​
While we were saving up, we did a couple trips on Atticus without self steering. Though it was doable, it wasn't very pleasant. It made overnight watches so draining and stressful!
​
When we finally used our Monitor wind vane on an overnight trip from Key West to Sarasota, we were blown away! It's easy, strong, and makes long passages so comfortable and relaxing!
​
Suzy is super helpful over the phone and via email. She makes me feel like a long lost friend when we chat. She is incredibly easy to get in touch with. Installation was simple. Scanmar's documentation made it plug and play.
​
This was one of our BEST purchasing decisions on Atticus so far!
​
We dragged anchor early in our cruising career in Isla Mujeres, Mexico while going ashore to check into the country. It was a terrifying experience. Fortunately (like most mistakes we've made on Atticus), it ended up being a great opportunity to learn and improve our anchoring strategy.
​
Check out our live stream where we talk about "Why We Dragged and What We Learned".
One of the biggest mistake we made, and one that we see many new cruisers make, is buying an anchor that is not oversized as our primary anchor. The problem arises because most websites specify sizing guidelines for "recreational" use, rather than "cruising" use. ​If you're going to live full time at anchor in unfamiliar harbors, ideally you'd have a storm anchor as your primary anchor.
We dragged on a 25lb Manson, which, although rated for our sized sailboat, was just too small for all of the unforeseen circumstances that are common in cruising. Manson has since updated their sizing guidelines to include "cruising" size recommendations. And we've learned our lesson as well.
For our primary anchor, we need something that we can trust in 40 knot + winds in poorly protected anchorages, in poor holding, AND in situations where the wind direction can change drastically without much warning.
By the time we got around to upgrading our anchor, we researched the heck out of our options, and were DYING to get our hands on a Mantus Anchor. Their anchors satisfied all three requirements above AND their company has exceptional customer support with a primary focus on anchoring specifically for CRUISERS. ​
We couldn't be happier with our 45 lb Galvanized Steel Mantus Anchor. Since upgrading, we haven't dragged once, and we've been in plenty of anchorages where all of the other boats around us were dragging. Our Mantus is a MONSTER, and simply put, perfect for Atticus. It helps us sleep well, knowing that it can handle winds changing direction, less than ideally protected anchorages, AND poor holding like a champ. We also love our Mantus Bridle and Swivel.
​
​
​
​
When we dragged anchor onto a beach in Isla Mujeres, Mexico, we borrowed a friend's Fortress Anchor to kedge Atticus off of the bottom, and it worked in one attempt flawlessly.
​
You can hear more about it on our live stream, Why We Dragged and What We Learned.
​
So we quickly upgraded to a FX-23.
​
The fortress, with every test that we have seen, has the highest holding power for weight and size than any other anchor. We believe it's the best option on the market as a lighter weight utility anchor. That's why it will be a great kedging anchor for unidirectional loads as well as a lightweight secondary anchor that can be deployed in either a med moor, Bahamian moor, or in the event that our primary system fails.
We also want to upgrade our dinghy anchor to a FX-7 because it's lightweight, breaks down easily, and stows well in the dinghy.
​
Brian is SUPER passionate and knowledgeable about anchoring and has been infinitely patient and responsive with our questions!
​
​
​
​
​
Designing an optimal wind and solar strategy was essential for Atticus because we understood that once we started to sail full time, we would need to be as self sufficient as possible— Marina hopping isn't in our budget and really isn't our style. We both prefer being anchored out in secluded anchorages rather than being tied to a slip on land.
As youtubers, we need to use our laptops and camera gear daily. We also run our Engel fridge 24/7. After a lot of research, we decided to go with Silent Wind's 400 + 12V Wind Generator.
We've been impressed by how quit the Silent Wind really is. We're often the quietest boat in every anchorage. As for energy output, the Silent Wind produces an impressive amount of electricity in high winds which is ideal for cold fronts or stormy weather when our solar panels produce next to nothing for days on end. When winds are below 16 knots, however, the output is not as significant.
Our Silent Wind came with a hybrid boost charge controller for wind AND solar energy which simplified installation and integration with our solar panels. Unfortunately, we were never able to get the bluetooth to work on the charge controller with any of our devices (OSX and Android), even after working with Silent Wind's customer support for a couple of days. We installed the Silent Wind right before we left the United States, and after realizing that we wouldn't need to change the presets (Unload Volts (absorption mode) – 13.9V, Brake Current (Storm brake) – 32Amps, Start Voltage (boost function) – 2V, Over Voltage (Charge end voltage) – 14.4V), we de-prioritized attempting to trouble shoot the problem and cast the lines for good. Luckily, the Silent Wind also has a manual stop switch, so we are able to use the brake without needing bluetooth.
Other than our unresolved bluetooth issue, installation was straightforward and easy. We purchased Silent Wind's mast mount and have been happy with it.
Finally, we've found the Silent Wind to be durable and incredibly low maintenance. We have had to re-align the blades twice, but both times were due to user error (we forgot to use the Silent Wind's manual stop switch when we loosening the main boom's topping lift which then hit the blades). Other than that, we haven't had to do ANY work on it since installation 2 years ago (which is almost unheard of for marine equipment!) and it has gracefully withstood and powered us through multiple cold fronts and high wind situations.
​
​
​
One of the most frequent questions we get when we tell people that we live and cruise full time on a 30 foot sailboat is, how do you shower? ​The answer varies depending on the situation-- whether we're anchored out remotely and are in water-conservation mode, or anchored out close to land with plenty of access to affordable fresh water, or underway.
​
You can learn more about it in our Video Staying Clean while Living on a Sailboat. ​
When we're anchored out close to land with plenty of access to affordable fresh water, we LOVE using our Helio inflatable pressurized camping shower for long, luxurious, warm (and sometimes even hot) showers. We generally shower in our bathing suits on deck (after our daily swim) during sunset while enjoying the beautiful colors of the sky change around us. The Helio really makes showering a pleasure.
The Helio (both the standard and LX) stows easily and takes up very little space when deflated. When inflated and filled with water, it stands upright nicely in our cockpit. It also absorbs the heat from the sun nicely. The best part about the Helio is the pressurized foot pump. With a couple of foot pumps, we get that "real shower feel"— and the water flow of the nozzle is spot on. The LX Helio also comes with a silicon sleeve that compresses the shower nozzle so you don't have to maintain pressure manually while showering.
Initially we bought the standard sized Helio, but we have since upgraded to the LX Helio and we will NEVER go back. The LX Helio has a hefty screw-on fill cap which makes filling the Helio a breeze and also makes cleaning inside the shower simple. The standard Helio has a smaller fill cap (not screw on), so it was a little annoying to open and close, and we had no way of cleaning the inside of the shower once it started to develop a little bit of growth. The inflatable foot pumps are identical on both models, though I've noticed with the LX Helio, I really only need 5 good pumps for a full shower. Because the standard model is smaller, we re-pressurized more frequently. The LX Helio also has a great handle for lifting the Helio on it's side, which is great for transporting it into the dingy as well as carrying it on deck to rinse down sailing gear, bird poop, or snorkel gear.
The only downside of the Helio is that it is not designed specifically for the marine environment, so it's not super UV resistant and it's few metal fittings are not stainless steel. That being said, the metal fittings didn't fail on us, and we were diligent about rinsing them down with fresh water. The isinglass, on the other hand, cracked after about a year because we left our Helio on deck 24/7. The crack in the isinglass rendered the Helio unusable because we couldn't get it up to pressure with the leak. Because of this, we ended up buying a new Helio and decided to upgrade to the LX Helio. I plan to make a Canvas cover to protect our new LX Helio because I want it to last for many years to come!
​
Overall, living on a small sailboat comes with a lot of sacrifices, but with the Helio, we don't feel like showering is one of them.
​
​
We seek out sponsors who are experts in their field and who have phenomenal products, services, and customer support. We only work with sponsors who we would buy gear and/or services from regardless of sponsorship. We invest a lot of time and energy into researching products before approaching these companies. In exchange for sponsorship, we offer an honest review of services rendered. The companies above are AWESOME and we stand behind them 100%, not because they gave us a discount, but because their products are top notch. We are lucky to work with them!